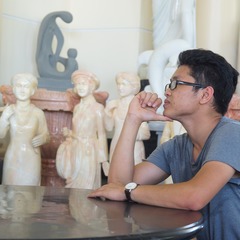 Trung Vu
Since the road is continuing eternally, let's drive forever!
Software Engineer

Tokyo, Japan

Joined on 2017/03/09
Sign up to view full profile
Self introduction
Software Engineer (international team) @Wantedly and leader of Vietnamese engineer in Japan community!

I graduated from Hanoi University of Science and Technology, leading multidisciplinary technical university and research unit of Vietnam with a major in computer science.

Interested in software architecture and never stop improving productivity.
Ambition
Be a product creator, build services to connect people with true stories, passions and experiences.
Work experience
Software Engineer

Develop new features in order to expand Wantedly service business Internationally!

2018-08 -

Software Engineer

- Develop data integration systems and improve system performance to processing millions of data records.
- Develop functions to cover more than 5.5 million companies data all over Asia.
- Improve technical skills like Java, OOP, micro-service architecture, API, back-end and data processing.

2016-08 - 2018-06

Java Internship

- Build libraries to train OOP, data structures, algorithms: Arrays, LinkList, Tree, Searching, Sorting, Graph.
- Communicate with Japan side about requirements

2015-04 - 2015-07

BrSE Internship

- Debug, detect and figure out system problems
- Translate Japanese documents for the development team
- Discuss with PM, Technical leader about technical problems

2015-01 - 2015-03
Portfolio
ウォンテッドリーは月間200万人が利用するビジネスSNSです

2018-8

会社にカジュアルに遊びにいける体験を実現したWantedly Visit [ウォンテッドリー・ビジット]のiOSアプリ。スワイプで気になる会社を発見し、ワンタップで気になる申請、その後チャットで...

SPEEDA - Asia's Leading Platform for Analyses on Companies, Industries and M&A Deals

2016-8

Building SPEEDA to cover more than 5.5 millions company data, Asia-focused Industry Research, Ext...
Links
Education
Software Engineer

Engineer's degree, Information Technology and Communication.
Hanoi University of Science and Technology is a leading multidisciplinary technical university and research unit of Vietnam.

2016-06
Clubs/volunteering
Leader of Vietnamese engineer in Japan organization: harder, better, faster and stronger
- More than 10 active members
- Holding the seminar/workshop every month
- Love sharing/growing together
- Bring the best to each other: opportunities, knowledge, advises

2019-1 - 2019-5
Languages
Vietnamese

Native

Japanese

Conversational

English

Conversational
Publications
My interests
Visiting Office, Career Opportunity, Recruiting, Expertise Advice, Weekend Activity, Networking, Workshop
Recommendations
No recommendations