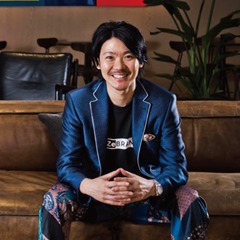 Ryo Kikuchi
What do you really want to do?
Chief Executive Officer

Manhattan

Joined on 2017/12/27
Sign up to view full profile
Self introduction
ZeBrand Inc.にてFounder&CEOとして活動しております!
米国・欧州MBA schoolのalumni networkに向けてイノベーション/イントレプレナーシップの講義なども行なっております。
"文字"を愛するが故にフォントメーカーのモリサワに入社し、米国Chief Innovation Directorを勤めた後、2017年NYのWeWorkを拠点としVP of Corporate Strategyとして勤務し、米国のブランディング及びデザイン市場をリサーチし新たなインサイトを獲得し、同年10月に社長直轄の新規事業部門を設立。各部門より選抜したプロフェッショナルをメンバーに選定し、ホラクラシーの概念に基づく新たな組織を模索。コアバリューを核として新たな価値の創出に向けメンバー一丸となり取り組んでいます。

5年前に米国のRhode Island School of Designという美術大学にて、学長であったジョン・マエダ氏の教えの元、リサーチフェローとしてアートの概念とビジネスの融合を研究。(卒業制作はMacintosh30th AnniversaryMovie内にも登場)
その後、経営大学院にてイノベーション領域を専攻し、フランスEDHECなどでも欧州のビジネスモデル等学んでおりました。
以前は、Webフォントという既存技術を活かした新たなプロダクト収益構造見直しにより利益率改善並びに対前年比800%達成し全社MVP表彰を得ました。(利益ベース1年半で7500%)既存市場に留まらずグローバル視点における全社戦略・イノベーション部門MORISAWA BRAND NEW Labを統括。
2019年2月に米国スタートアップ向けのブランディングをオートメーション化するWebサービス『ZeBrand』をローンチ。3月のSXSWに出展し、世界各国からの評価やフィードバックをもらい、日々アップデート中。また、WeWork NYにて自主開催イベントを実施。メディアからの取材依頼をもらうなど更なる展開の打診を受け、ZeBrandの世界展開に向け活動中。Amex x WeWorkビジネスコンテストにてグランプリを受賞し、Forbes誌にて4Pの特集記事掲載。TechCrunch Pitchers&Pitchesコンペ優勝。


A visionary by nature, I embarked on his entrepreneurial journey at Morisawa, the leading typeface foundry in Japan, where I acted as Chief Innovation Director and developed expertise in new business development, customer acquisitions and team building.

My drive and passion led me to form MORISAWA BRAND NEW LAB in 2017, an internal team dedicated to exploring new and emerging ideas that inform and challenge the current state of the font industry.

My most current brainchild is ZeBrand, a web-based branding tool and the first of its kind. As its director and founder, I have led me the product from conception to development, eventually launching and revealing the new service at SXSW in 2019.

I hold an MBA from NUCB in addition to spending time at the Rhode Island School of Design in the US and the EDHEC Business School. I have recently been featured in various media outlets including WORK MILL with Forbes Japan and NHK. We won the grand prize in the American Express x WeWork business contest.
Ambition
『Brand your way』
あらゆる方々へブランディングを届ける
それぞれが自分らしさを表現して、そのらしさを認め合える世界を創る
Projects
ZeBrand is a branding app that makes jump starting your brand easy. Our free web tool helps early-stage startups shape and bring clarity to their brands by decoding their mission and vision, visualizing design assets, and delivering it in a single brand toolkit.

2019-2 - 2019-4

株式会社モリサワ
グローバル戦略を担う社長直轄の新規事業部門

2017-10 - 2018-12
Languages
English

Professional

Japanese

Native
Links
Recommendations
No recommendations