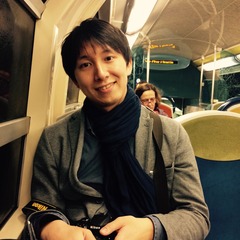 Tatsuya Shirakawa
Bridging the Gap between Technology and Business with Math!
Resercher

東京都 国立市

Joined on 2016/01/17
Sign up to view full profile
Self introduction
My current interests are (1) applying deep learning to several fields including images / videos, natural languages, and graphs / networks, (2) developing new algorithms/methodologies for problems which current technology cannot solve efficiently, (3) finding new problems, (4) and finding emerging technologies.

下記に関心があります。
(1) deep learningを画像・動画・自然言語・グラフ/ネットワークのようなさまざまな領域に適用すること
(2) 既存技術で効率的に解くことができない課題に対して、新しいアルゴリズムや手法を考案すること
(3) 新たな課題を発見すること
(4) 将来性のある技術を先行的に発掘・発見すること
Ambition
Applying deep learning to various fields including
- Natural Language Processing
- Computer Vision
- Graphs / Networks
- Transfer Learning
- Multimodal Learning.
I hope to come up with efficient algorithms through qualitative understanding of new techs.
Work experience
Resercher

Machine Learning, Deep Learning, Computer Vision, Machine Learning on Graphs

2016-11 -

主任研究員 / senior researcher

mathematical optimization, machine learning

2009-04 - 2016-10
Education
理学部数学専攻 / Faculty of Science (Major: Mathematics)

代数的整数論(モジュラー形式) / Algebraic Number Theory (Modular Forms)
代数幾何(複素代数曲線) / Algebraic Geometry (Complex Algebraic Curves)

理学系大学院数理解析専攻中退 / Mathematical Sciences Course (Dropout)

代数幾何学 / Algebraic Geometry
Languages
English

Professional

Japanese

Native
Tools used
Slack , Chatwork , Redmine , HipChat , Backlog , GitHub , Facebook messenger , LINE , Skype , サイボウズ , AWS , Heroku , Docker , Subversion , Jenkins , さくらのクラウド , Visual Studio , Sublime Text , Vagrant , Office 365
Recommendations
No recommendations