First Code Academy x Wantedly Group Visit - Explore what a coding school is like!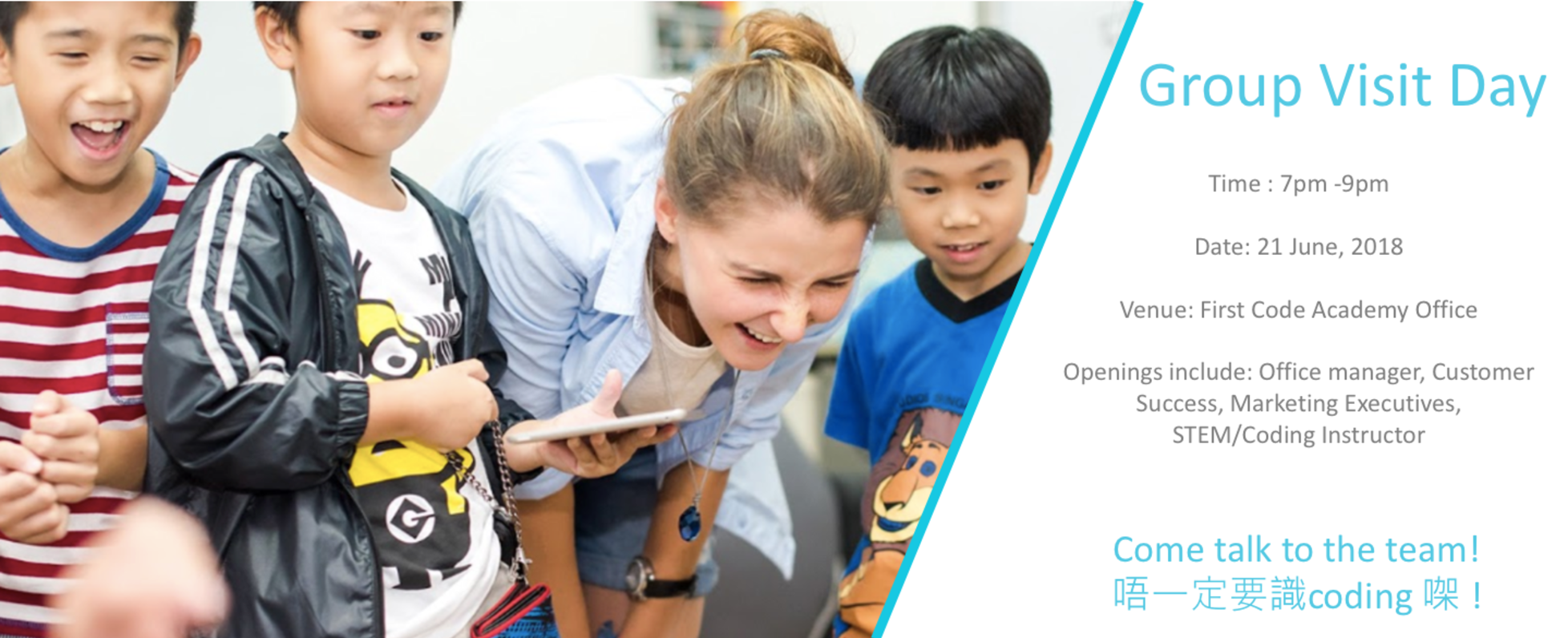 Natasha

Operations Manager
"I love building things from nothing to something. I am now focusing on Operations, People Operations, and Software. The laughter in our classrooms and the confidence in our kids' eyes really got me. First Code is not just a startup or a coding school, it is a mission and a lifestyle."

"Now learning coding in my spare time, I believe in the value of coding in teaching young children that the sky is the limit. It's wonderful to see students proudly showcasing their work and staying back after class, excited to be working on more coding projects."

"First Code's culture is fun and enjoyable - we're just like family. I love the fact that everyone here is so open and supportive of each other. What really puts a smile on my face is seeing the kids showcase their work. You'd be amazed at what they can accomplish!"
In 2012, Michelle was working in Silicon Valley as a software engineer and volunteered to teach programming to primary and secondary school students at a program operated at Stanford campus. During that time, she observed how the millennials (digital natives) interact and create with technology and reflected upon her education in Hong Kong.
Moving back to Hong Kong in 2013, Michelle then began to offer coding and STEM courses and develop curriculum for primary and secondary students to learn not just coding skills, but also computational thinking. Since then, our team has taught mobile applications, games, 3D Printing and animation to over 10,000 students from age 4 and above in Hong Kong, Singapore, Taiwan, and China.
We are excited to empower our next generation to become creative leaders in the digital era, for their future career and for driving social change. Join our journey! :)
MISSION: Shaping Future Creators
VISION: "Silicon Valley is a mindset, not a location"
Culture: Done is Better Than Perfect
With curriculum adapted from Silicon Valley, our goal is to equip each student with the knowledge and skills to transform their ideas into reality with code.
Adopting a project-based learning approach in the classroom, our students apply programming concepts via hands-on challenges to solve different real world problems. In an increasingly technological world, we empower students with the skills and confidence to explore their creativity, take pride in their creations and pursue their interests.
First Code has partnered with many multinational corporations including Google for social impact projects teaching students from underprivileged communities how to code.
Our work has been featured on Forbes, Wall Street Journal, CCTV, CNN, BBC News, and multiple local press including South China Morning Post, TVB, the Straits Times.
This is your chance to explore HK's leading programming school for kids! Come to visit First Code Academy office and meet the co-founders and the team!
Date: 21 June, Thursday
Time: 7-9 pm
Venue: First Code Academy Office
Address: Unit 302-305, 3/F, Hollywood Centre, 233 Hollywood Road, Sheung Wan
What to expect:
-Introduction of First Code Academy
-> What is the culture
-> How's the team
-> What types of candidates that they are looking for
-Group activity
-> show your personality
-> interact with other joiners
-Mingle and Networking
-> talk with the team and meet the co-founder
-> meet other joiners
-> make new friends
Current openings from First Code Academy:
https://www.wantedly.com/companies/firstcodeacademy2/projects
Work-life balance
The organization is only as good as the team members within it. We ... Show more
Opportunities to grow for juniors
Our team is young and ambitious. We look for new team members who h... Show more
Customer first
Inspired by Zappos's Delivering Happiness, our team at First Code p... Show more
Basic info
Looking for
Group Visit Day
Job type
Contract work/part-time / Full-time
Special features
Foreign nationalities welcome / Students welcome
Company info
Founder
Michelle Sun & Kevon Cheung
Founded on
October, 2013
Industries
IT (Internet/Mobile) / IT (Telecom/SI/Software) / Education / Research
Sheung Wan (HQ), Yau Ma Tei, Causeway Bay, Kwun Tong, Cyberport