Come to transform large organisations as an Agile Coach!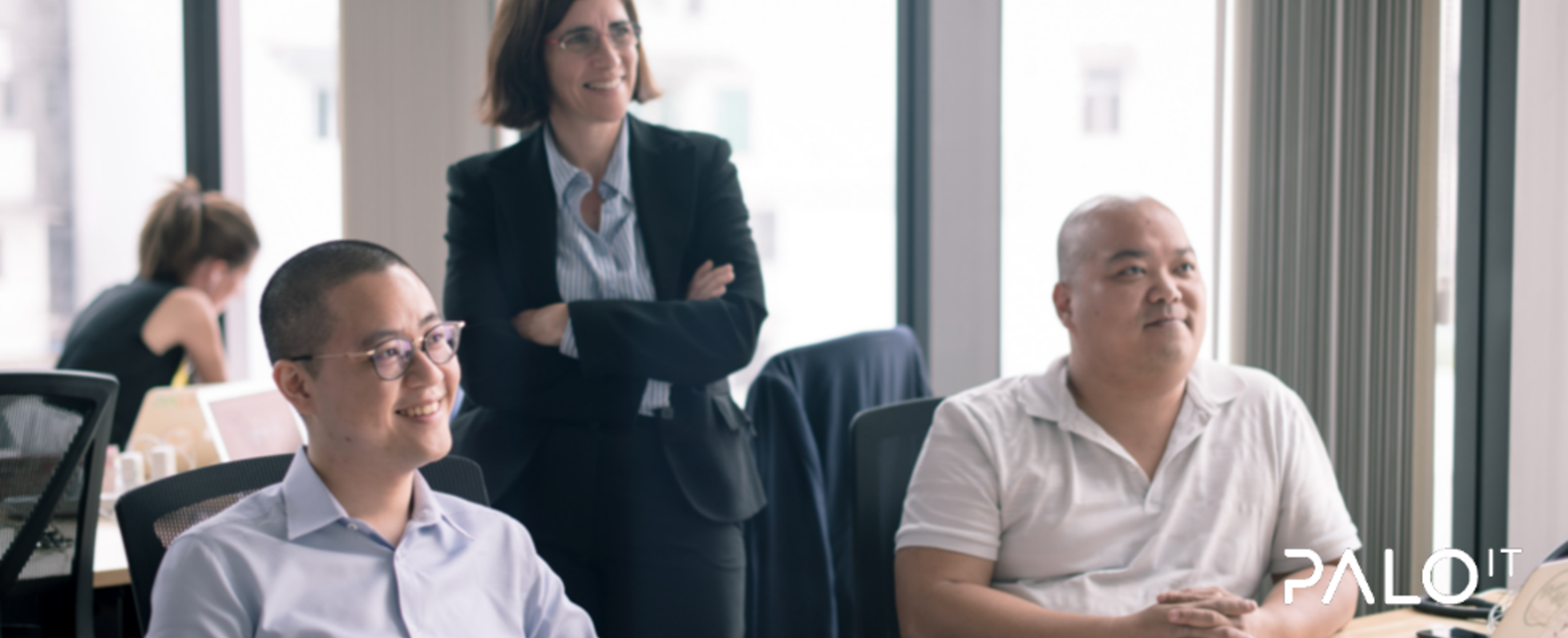 No description available.

I have 10+ years experience within Recruitment and Talent Acquisition, both in-house (where I worked for Telstra as a team lead and senior recruitment consultant) and on agency side, where I began my recruitment career at Michael Bailey Associates. With international experience gained in Holland,...
PALO IT is an international consultancy specialised in Human-Centered Design, Agile Software Development and in the Transformation of forward-thinking companies. Our approach takes the best of Design Thinking, Agile and DevOps to help our clients disrupt their industry, reduce their time-to-market and successfully run their digital transformations.
Located in France, Hong Kong, Singapore, Thailand, Australia and Mexico, we stand proud of our strong project delivery culture and our awesome team of 300+ talented consultants from 27 nationalities. As a fast-growing company, PALO IT recruits User Researchers, UX/UI Designers, Full Stack Developers, Architects, DevOps Experts, Data Scientists, Agile Coaches, Product Owners and Scrum Masters all year round.
Collaboration, creativity and entrepreneurship – these are at the heart of everything we do!
www.palo-it.com
Our vision:
At PALO IT, we aim to harness the power of Technology for the greater Good. We care about each other's well being and we think that we have the responsibility to build a better future.
Our mission:
With a unique end-to-end approach, PALO IT thrives on creative thinking and technical excellence to develop breakthrough products that help leaders of today and tomorrow reinvent themselves in a rapidly changing future.
Our Palowans-driven initiatives:
> PALO Impact Lab:
It addresses the largest challenges and opportunities of our time. It aligns with communities and identifies promising technology projects that innovate at the intersection of people, planet and profit.
> PALO Academy:
It is a unique learning platform specialised in providing worldwide, innovative and dynamic courses for today's most in-demand skills.
> PALO Incubator:
It offers startups and early-stage ventures the support they need to get off the ground, including technical guidance, world-class execution capabilities from the PALO IT community and a vibrant office space.
At PALO IT, we rapidly turn ideas into products that generate unprecedented value to end users.
> We design and develop breakthrough experiences | We're not a design agency: we don't stop at the concept stage.
> We deliver testable prototypes & scalable products | We're not a management consulting firm: we don't deliver slide decks.
> We focus on value creation and build long-term relationships | We're not a body-shopping company: we don't fill spots.
> We engage closely with our clients and build organic, high-performance teams | We're not an offshore company: we don't sub-contract our work.
Having the right skills is not everything!
At PALO IT, we deeply believe in the power of the right mindset too. To join the PALO IT family, future Palowans must share common values:
• We CARE about our world.
• We act with COURAGE.
• We SHARE, it's in our DNA.
• We choose POSITIVITY.
• We DELIVER awesomeness.
We offer an exciting and creative working environment, with endless opportunities to grow your skills. If you would like to know more about how we support you to gain the competencies required to take your career to the next level, please get in touch with us!
YOU:
• Thrive on challenge. When was the last time you fail?
• Are curious & always learning. What are you up to right now?
• Can deal with constant change. When were you last surprised?
• Have mastered at least one skill of your trade but you're not defined by it. What can you teach us? Can you wear many hats?
YOU AGAIN:
We are looking for an Agile Coach to coach and enable our development teams to work efficiently and quickly together. You will have outstanding interpersonal skills and the ability to manage client projects. You will also work closely with project teams and business stakeholders and provide technical expertise that enables innovation.
• Within exciting projects, you will take part in leading-edge consulting missions.
• You will guide Scrum Masters and Product Owners, as well as business and technical teams.
• You will also coach executives and managers on their leadership attitude and coach teams facing tough challenges e.g. related to how they work and interact together.
• You will contribute to building an environment where continuous improvement of the development process is in focus and where everyone's common goal is to deliver outstanding software as fast as possible.
• You will facilitate learning through workshops, meetings, and team offsites.
• You will also actively try to identify areas of improvement and conceptualize mthods on how to be more efficient.
• Lastly, you will guide your teams in the construction of a product roadmap, while measuring the performance of the project and ensuring its follow-up.

STILL YOU:
• Graduated from an Engineering school, you have a proven experience of 5 to 15 years in a similar position, ideally managing projects using Agile methodologies and Object oriented concepts.
• You are experienced with working in engineering teams, as a Scrum Master, Product Owner, or Agile Coach.
• You have a deep understanding of communication, group dynamics and coaching.
• You are not afraid to raise issues and remove impediments from your team.
• You care about learning new things and improving existing challenges.
• You master Scrum, XP or Lean. You have an excellent IT culture and a real sense of Delivery.
• You are a strong believer in Agile Methodologies, Scrum, Kanban, TDD, BDD, XP and interested in learning more about Design Thinking, Lean Start-up.
YOUR ROLE AT PALO IT:
You will be invited to take part in R&D works done within our Practices. You will have the chance to assist or be a speaker at must-attend international IT conferences. You will have the opportunity to write articles for our Blog or specialized press. Genuine ambassador of PALO IT, you will present our offers and take an active role in the development of the company.
YOUR TECHNICAL ENVIRONMENT:
# Practices optimization : TDD, continuous integration, DevOps, Pair Programming, Clean Code, 0 Defect, Culture of service excellence.
# Workshop facilitation : Value Stream Mapping, Innovation Games, StoryTelling, etc.
# Agile and Scrum methodologies.
Basic info
Looking for
Agile Coach
Job type
Full-time
Special features
Available to talk on Skype / Foreign nationalities welcome
Company info
Founder
Stanislas Bocquet
Founded on
September, 2009
Headcount
300 members
Industries
Consulting / Survey / IT (Internet/Mobile) / IT (Telecom/SI/Software)
Blueprint, 2/F Dorsett House, Taikoo Place, 979 King's Road, Quarry Bay, Hong Kong