Project manager wanted to reduce plastics in HK !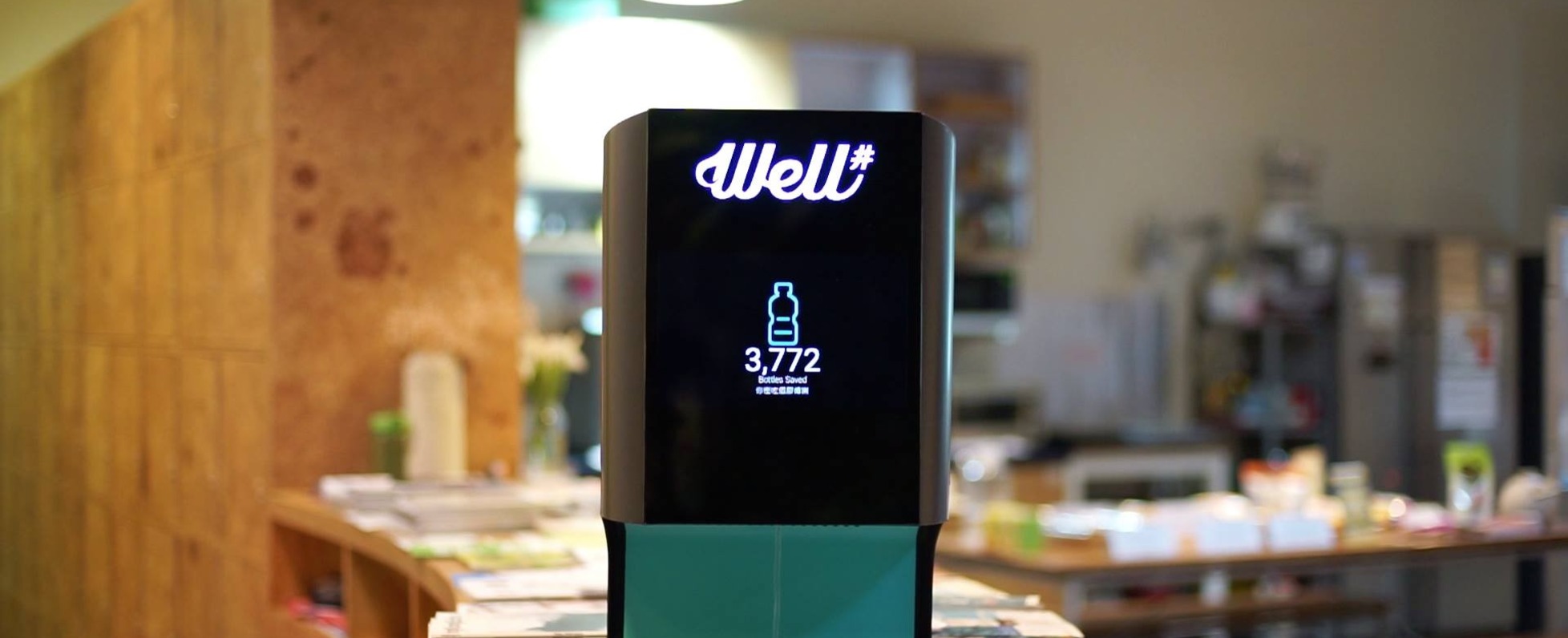 No description available.

I execute ideas.

No description available.
Urban Spring is a startup that aims to provide a contemporary water drinking experience to the urban jungle. That's why we have introduced WELL#, a locally designed water refill station that provides clean, affordable and accessible drinking water to everyone in Hong Kong.
"The future is now. #REDUCE is the new attitude."
— Ada Yip, CEO of Urban Spring
Urban Spring is committed to offering innovative and sustainable solutions to reduce single-use plastic waste in Hong Kong.
In fact, Hong Kong people purchase over 1,500,000 bottles of water everyday. We believe one of the best ways in fighting the seemingly never-ending battle is to offer a refreshing and engaging solution of accessible freshwater."
Our first move is to enhance the convenience to refill water across Hong Kong. We offer safe drinking water through well-designed and well-maintained water dispensers all over the City. We believe that disposable plastic bottles can be drastically reduced if there is a safe, viable, convenient and cool alternative.
We have been collaborating with local communities to educate the public about the scale of our plastic waste issue and to re-define the way we consume drinking water outside of our homes.
We're looking for a hands-on Project Manager with strong project management experience. The Project Manager will oversee the entire process of water station operation, which includes site evaluation, installation, maintenance, and customer service.
We are looking for a dynamic individual who is ready to get his/her hands dirty and work closely with teammates. We hope to attract candidates who has the heart to make a difference in the community and want to contribute to propel Hong Kong into an environmentally friendly society in which no disposable plastic water bottles exist. Taking the product to the market will be the main focus, although knowledge of branding, marketing and the mobile world is a plus.
Qualities that we look for:
We are looking for candidates with the following characteristics:
• Be our "intrapreneur": Creatively design and project manage our product rollout plan in a dynamic market environment; comfortable turning vision and idea into reality
• "Out of the box" thinker: When faced with a challenge or a problem, you proactively find a solution instead of waiting for others to resolve the problem. You have a can-do attitude and display leadership qualities when dealing with the unknown or in situations with high ambiguity.
• "Whatever It Takes" Mindset: Are you a true team player? In a startup, there are a lot of things that need to get done that aren't glamorous, or not in your direct line of duty. You will be learning and touching all parts of the business.
• Integrity is important to us. We are looking for someone who is reliable & honest.
• We are passionate about our purpose and believe in the power of business in creating social good. We are looking for a team member who works hard, plays hard, loves life and aspires to create impact together with like-minded people.
• Client Focus. Working directly with customers and partners on a regular basis makes you happy - you're not afraid to pick up the phone and talk to customers
• You excel in a cross-functional role: product, operations or marketing – you are comfortable to handle conflicting needs and prioritize tasks
Job Duties:
• Responsible for managing the entire process of water station operation, from pre-installation site evaluation to post-installation maintenance, ensuring its full functionality and compliance with safety codes
• Offer technical advices to Business Development team with regard to feasibility and operational considerations for long term installation or temporary installation for events
• Prepare duty roster and oversee the work quality of in-house technicians and contractors
• Determine installation method and suitable materials based on budget, location and end users
• Identify potential issues and provide solutions to ensure safe operation of water stations
• Handle process and procedure with discipline; ensure documents and records are precise and up-to-date
• Regularly review the process and procedure, lead and drive continuous improvement in running a lean and dynamic operations, as well as building capacity for our scale-up
• Conduct analysis of client and user metrics to identify room for improvement in the service model
Desired Skills and Experience:
• Track record in client and contractor management – ideally someone who has the poise to interact and work confidently with a wide range of individuals in the private, public and social sector
• A willingness to be "in the trenches" working with contractors, property management on installation and maintenance and the ability to take initiative in a constantly-changing work environment
• Have a strong interest in facing the challenges faced by mission-driven companies and/or startups
• Basic mechanical and electrical knowledge; basic plumbing and pipefitting knowledge a plus
• Experience in managing between design, drawings, materials and fitting out works is preferred
• Basic computer skills, good working knowledge of Microsoft Office tools and computer drawing tools
• Good command of both Chinese and English
Why Join Us?
• Be part of a dynamic team to shape the strategic direction of the company
• Sharp, motivated co¬-workers in a fun and relaxed office environment
• Be part of making changes to the city of HK and to the environment
• People is our most important asset and we offer fair and competitive compensation.
Basic info
Looking for
Director/manager
Job type
Full-time
Company info
Founder
Ada Yip
Workshop A2, 1/F, Lucky Horse Industrial Building, 64 Tong Mi Road, Mongkok, Kowloon